Happy Birthday to Me...for the 17th time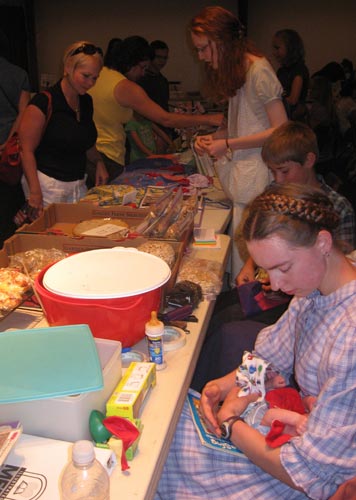 Here's where I spent my birthday morning :)
I sold more than I thought I would at our homeschool group's annual sale. There was everything from crafted items to baked goods to curriculum and everything in between!
Our friends from outside of town had the table next to ours. I rarely get to spend much time with the girls, so I was very happy to be able to chat with two of them today.
Afterward I went out with my mom and her friends to lunch. (Since it was my birthday, they let me join in.) I was, of course, embarrassed by the waiters as soon as someone let out the secret of my special day :)
As for gifts, I got a Flexi8 from grandma and a watch and book from my parents. Also from my dad was a leather strap—the last piece I needed to get my treadle machine up and running!! It works! And as I took those first stitches, I got a little taste of what my foremothers felt as they used the first sewing machines. It's really incredible how fast that thing can go without electricity!